Our team of experts at Metal Strut Solutions Incorporated (MSS) have over 40+ years of experience providing unique and custom as well as site-specific solutions to address the most challenging projects.  Continually pushing the boundaries of materials and technology, we deliver exceptional value and expertise in solving critical engineering problems. 
A Trusted Construction Partner
We Distribute, Install & Service The Full Line Of
MIRO Industries Rooftop Support Products

Custom Metal Framing Solutions
Strut Ceiling Grids & Support Structures
---
Metal Strut Solutions Ceiling Grid Systems offer unparalleled structural support and flexibility for your ceiling space.
Data Centre' and Mission Critical facilities house some of the most sensitive technology on the planet. Above the finished ceiling in each computer room is countless miles of cable tray, HVAC, data and power cable that requires structural support which maintains all of the core equipment within the space. Our Metal Strut Solutions Ceiling Grid Systems are engineered to provide a structural, acoustical, mechanical, and electrical support solution.
Metal Strut Solutions provides the engineered design along with our experienced Union installation crews to install these complex and critical support structures.
Typical Ceiling Support Applications:
Data Centre Ceiling Grids
Mission Critical Ceiling Grids
Architectural Ceiling Grids (provides structural capability)
Healthcare Lab Ceiling Grids
Structural Ceiling Grids
Metal Strut Solution System Benefits:
Modular (installation is faster than traditional grids & pre-fabricated prior to arrival on-site)
Utilizing an MSS Ceiling Grid reduces the amount of additional support steel by other trades
Various finishes available including Hot Dipped Galvanized and custom paint finishes.
Medical Support Structures
---
Our experience in Medical Equipment Supports takes us coast-to-coast providing support solutions within hospitals and medical facilities. We work with Architects, Engineers, Hospitals, General Contractors, and the Manufacturers to provide custom support solutions.
Typical applications include:
X-Ray/Diagnositic Imaging Equipment Support Systems
Exam Light supports
CT Injectors
Surgical Light Supports
Surgical Booms - Single & Dual
Anesthesia Booms - Single & Dual
Service Column Supports
CRT Monitor Supports
Injector System Supports
Gas Column Supports
Lead Shielding Supports
Patient Lift Support Systems
Metal Strut Solutions provides innovative pre-fabricated solutions to our customers in the Medical industry. Our systems are pre-fabricated which helps reduce installation time, on some of our product lines, by up to 85% compared to conventional support structures.
MIRO Rooftop Support Systems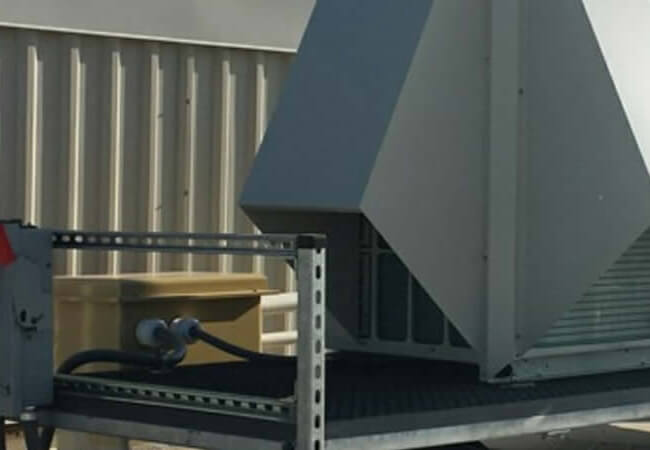 ---
Since 1982, MIRO industries has been a leader in the rooftop support industry manufacturing non-penetrating , portable rooftop supports for pipe, conduit, duct, hangers, mechanical supports and crossovers.
It's vast product line provides Metal Strut solutions with the capability to achieve a full spectrum of services for all types of pipe support industrial projects providing complete rooftop and grade level support systems.
CUSTOM DUCT SUPPORTS | CUSTOM HANGER SUPPORTS | DYNAMIC SUPPORTS
ELEVATE SUPPORTS | MECHANICAL SUPPORTS | PILLOW BLOCK SUPPORTS
PIPE SUPPORT ACCESSORIES | SUREFOOT ACCESS WALKWAYS
WIND & SEISMIC | UNIFLEX SERIES
Engineered Rooftop Walkways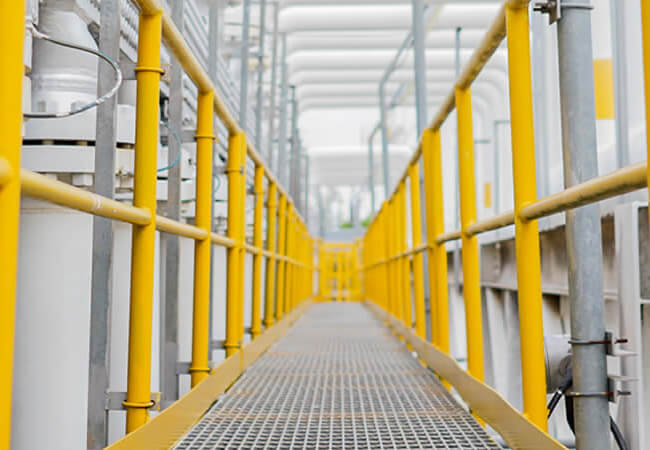 ---
All Metal Strut Solutions roof walkways, catwalks and roof access points are designed and installed with the highest standards and cost-efficiency in mind. Our expertise in single access point installation or full roof walkway construction, has allowed our clients to safely and easily access single or multiple pieces of rooftop equipment with confidence. Our focus on design and engineering keeps our installations simple and straight-forward, no matter how complex the project. All projects adhere to the highest industry standards and are delivered to exact specifications. Our total project management means that we control all aspects of designing, fabricating and installing safe, secure and dependable access solutions for any size project.
Metal Strut Solutions provides lightweight, durable, versatile and cost-effective systems for all our project builds.  Our systems are quickly and easily installed thanks to a weld-free approach, made possible by our metal framing support system. We can install our solutions through roof penetration, which allows for direct attachment to your buildings structure, or by mounting on a rooftop pier.
All our access structure projects are specifically designed for the individual clients' application, with detailed planning included to accommodate all on-site conditions, such as existing equipment or obstructions. Metal Strut Solutions can also provide structural calculation services and engineering seals for any project.
Fall Protection Systems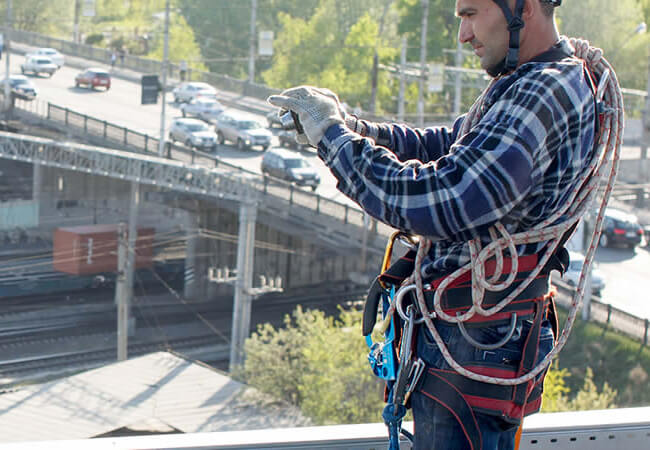 ---
Metal Strut Solutions Incorporated (MSS) are experts in the design, fabrication and installation of turnkey engineered fall protection systems and fall arrest systems for companies that are exposed to fall hazards. Workplaces represent those responsible for worker protection with ever more complex safety challenges and regulatory compliance, especially in circumstances where activities require personnel to work at height and require industrial fall protection/fall arrest systems. The versatility of our products and solutions combined with our expertise in fall protection safety effectively resolve the risks associated with working at heights in a broad range of applications.
Following are some of the Fall Protection/Fall Arrest applications we specialize in:
Access & Loading Platforms
Rigid Rail Fall Protection Systems
Horizontal Life Lines
Fall Protection/Roof Anchor Points
Handrail & Guardrail Walkway Systems
Crossover Ladder Platforms
Catwalks/Elevated Walkways
Ladder & Cage Systems
Portable Fall Protection Systems
Stairs & Gangways
Overhead Systems
Vertical/Inclined Systems
Warning Lines
Skylight Guards
Stage Rigging Lifelines
Tieback Anchors
Inspections/Re-certifications
Mechanical Service Platforms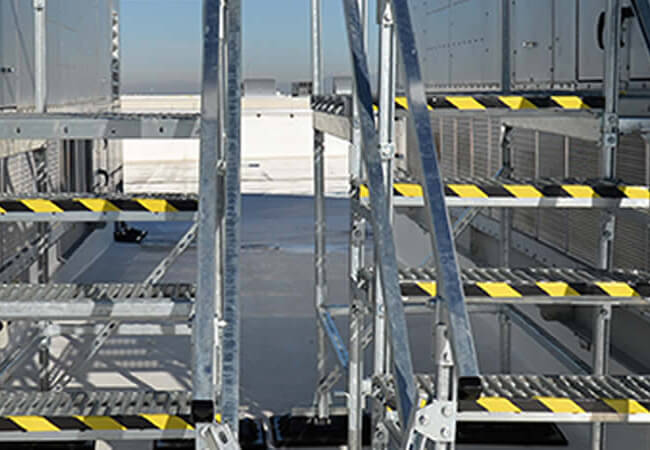 ---
Metal Strut Solutions knows that the ability to service and perform maintenance on machinery or equipment such as HVAC systems is a vital part of your project requirements.  We proudly offer multiple options to provide access solutions for your facility, from Crossovers and Work Platforms to customizable stairs.
Crossovers, Stairs and Service Platforms – are a common method of providing access to mechanical systems when piping, duct work or conveyors are in the way.  Service personnel require easy access and safe work surfaces that provide ergonomic access to machinery or equipment to keep your business up and running.
Our Mechanical Service Solutions are customizable to meet all individual requirements. Access platforms can be installed using rubber based, non-penetrating rooftop platforms, anchor directly to the building floor or cantilever off existing steel structures. Built using interlocking grates that provide a slip resistant surface with handrails and kick plates, in a variety of unique finishes and materials. Save time and money by providing direct access to service areas with a modular access system from Metal Struts Solutions.
Typical Applications for Mechanical Service Platforms:
Rooftop Crossover options for ducts, piping, conveyors or cable trays
Rooftop mechanical equipment service platforms
Rooftop Entry & exit stairs and platforms
Crossover access between rooftop levels
Conveyor Crossover Solutions
Machinery access platforms
Elevated machinery platforms
Storage mezzanines
& more
All our Mechanical Service Platforms will meet your individual design requirements and exceed regulatory specifications.  Give us a call for more information about providing safe, secure and convenient access for service workers with our industry leading solutions.