Mechanical Service Platforms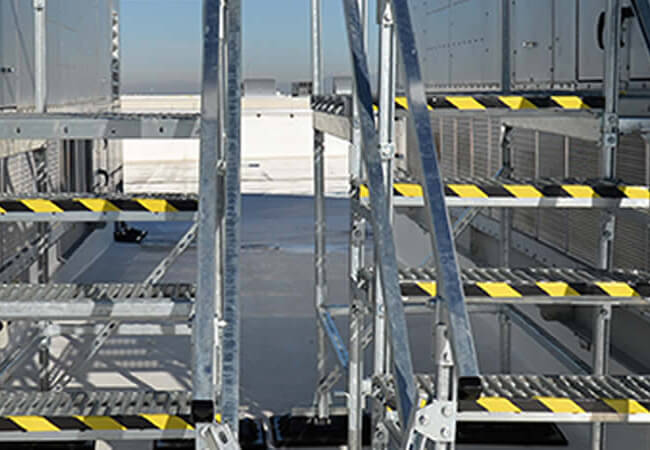 ---
Metal Strut Solutions knows that the ability to service and perform maintenance on machinery or equipment such as HVAC systems is a vital part of your project requirements.  We proudly offer multiple options to provide access solutions for your facility, from Crossovers and Work Platforms to customizable stairs.
Crossovers, Stairs and Service Platforms – are a common method of providing access to mechanical systems when piping, duct work or conveyors are in the way.  Service personnel require easy access and safe work surfaces that provide ergonomic access to machinery or equipment to keep your business up and running.
Our Mechanical Service Solutions are customizable to meet all individual requirements. Access platforms can be installed using rubber based, non-penetrating rooftop platforms, anchor directly to the building floor or cantilever off existing steel structures. Built using interlocking grates that provide a slip resistant surface with handrails and kick plates, in a variety of unique finishes and materials. Save time and money by providing direct access to service areas with a modular access system from Metal Struts Solutions.
Typical Applications for Mechanical Service Platforms:
Rooftop Crossover options for ducts, piping, conveyors or cable trays
Rooftop mechanical equipment service platforms
Rooftop Entry & exit stairs and platforms
Crossover access between rooftop levels
Conveyor Crossover Solutions
Machinery access platforms
Elevated machinery platforms
Storage mezzanines
& more
All our Mechanical Service Platforms will meet your individual design requirements and exceed regulatory specifications.  Give us a call for more information about providing safe, secure and convenient access for service workers with our industry leading solutions.